Fintuity Wishes All Our Customers & Partners Seasons Greetings
Fintuity would like to wish you all a wonderful Christmas break!
As the year fast approaches, the Fintuity team would like to wish you and yours the very for the season – we will be closing from the 23 December and will re-open the office on the 4 January 2021.
We would like to thank you all for your support over past year and are proud of the work that we have done to support our customers, partners and NHS workers. We thank you all!
We wish you the very best of the season and look forward to working with you in 2021!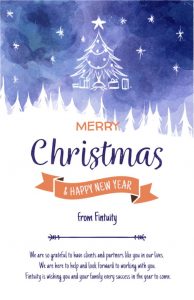 We are here to help you
Your first consultation is completely free-of-charge. All you need to do is select a convenient time & date and outline how we can assist you.