Fintuity Briefings – Assessing the Outlook for the Year to Date
Global equity markets saw one of the strongest Januarys in recent years as positive market sentiment continued in to 2023. The FTSE 100 ended the first month of the year on a high, up 4.29%, with the S&P 500 also up 3.74%.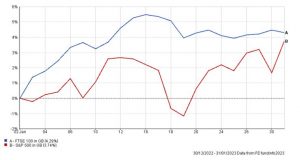 Inflation, the cost-of-living crisis, and the potential recession in the UK have been at the forefront of news and the broader economy. Investor sentiment continues to remain optimistic globally as the peak of inflation and rising interest rates begin to become clearer and the reopening of China, following the end of their zero-covid policy, is a much needed positive.
The Bank of England's Monetary Policy Committee is raising rates again at the start of February by a further 0.5% to 4%, the highest rate in 14 years. The UK is currently expected to be the only developed economy to shrink in 2023 as the impending recession looms, although this is hoped to be milder than first feared.
The UK showed slightly more modest growth when compared to other regions, but small and medium sized businesses outperformed expectations amid signs the economy is holding up better than expected. This was a similar story to our neighbours in Europe, where the Eurozone was one of best performers in January partially led by the annual inflation rate coming down to 9.2% at the end of 2022.
Positive inflation figures were also seen across the pond where for the 6th successive month US inflation fell, down to 6.5% at the start of the year with employment figures also better than expected and the lowest since last April.
2023 has begun with the same momentum which pushed for a strong end to Q4 last year, but investor sentiment can be fickle, and volatility will remain present across global markets for some time to come.
Ensure That Your Finances Are Working as They Should be 
Fintuity are able assist you in a number of ways of modelling and managing your personal finances, including:
Introducing Fintuity – The UK's Digital IFA!
Fintuity is like a traditional IFA, only we are an online adviser which means we can offer a more cost effective, time-sensitive and flexible service! We offer the full range of IFA services via our digital platform, at below industry rates and at your convenience. Please do not hesitate to get in touch to see how we can assist you.
For all enquiries please visit www.fintuity.com or email support@fintuity.com
Please Note: All information, references and dates included in this article were accurate at the time of publishing.
We are here to help you
Your first consultation is completely free-of-charge. All you need to do is select a convenient time & date and outline how we can assist you.