Fintuity Briefings – All You Need to Know for December
Financial markets throughout November continued their mini rally following a difficult summer to early autumn. The FTSE 100 recorded another strong month, up by 5.7% and worldwide developed market equity similarly saw an average 7% gain with emerging markets gaining 15%.
The Bank of England's Monetary Policy Committee raised interest rates by 0.75%, up to 3%, as inflation and the cost-of-living crisis continue to dominate the news and broader economy. The autumn statement announced several tax changes which will affect every day people's tax planning in the tax year to come, notably with the reduction to capital gains and dividend allowances.
However, positive news from the other side of the pond with the US inflation figures being lower than expected which has improved investor sentiment. Recent protests in China had threatened to turn sentiment sour, but markets have been resilient to this so far as we wait to see how it plays out. The ongoing war in Ukraine continues to weigh heavily on the commodity markets.
While this last month has heralded positive news, markets remain volatile as positive news continues to be coupled with the shifting sands of investor sentiment. The volatility has been a persistent trend in 2022, as the chart below shows, but as you can see the optimism this year has tended to be temporary.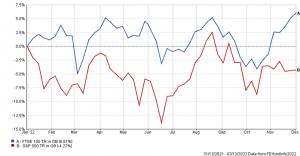 What Does the Autumn Statement Mean for You?
With the change of government last month comes new economic priorities and as such the government announced a series of new policy directives that directly affect us all. The ongoing War in Ukraine, international market instability, the cost-of-living crisis and a deepening recession have forced policy makers to enact a series of measures to help mitigate economic hardships for millions around the country, but it is yet to be seen whether this will deliver the desired results. To this end, the key autumn statement announcements are as follows:
The income tax and inheritance tax allowances will be frozen until 2028
Top additional rate of income tax of 45% threshold to be lowered to £125,140
Mortgage rates forecast to stay at 5% (OBR)
UK officially in recession and inflation rate predicted to be 9.1% this year with OBR predicting 14% inflation
The BOE rate is expected to rise to 5% (OBR)
Household energy price cap to be extended for one year beyond April of 2023 with energy bills capped at £3000 – means assessed households on benefits will receive £900 in support payments next year
Stamp duty relief to expire in 2025
Lifetime allowance & money purchase annual allowance is also frozen
Dividend thresholds will be reduced from £2000 to £1000 in April 2023 and will be reduced to £500 the following year
CGT allowances cut to £6150 in 2023 and then £3000 in 2024, and dividend allowances cut to £1000 in 2023 and then £500 in 2024
Further information about tax and wage implications of the Autumn Statement as well as the cost of living can be found on our blog.
Introducing Fintuity – The UK's Digital IFA!
Fintuity is like a traditional IFA, only we are an online adviser which means we can offer a more cost effective, time-sensitive and flexible service! We offer the full range of IFA services via our digital platform, at below industry rates and at your convenience. Please do not hesitate to get in touch to see how we can help you.
For all enquiries please visit www.fintuity.com or contact Fintuity's Communications Manager, Nic Cobb at nic.cobb@fintuity.com.
Please Note: All information included in this article were correct at the time of publishing
We are here to help you
Your first consultation is completely free-of-charge. All you need to do is select a convenient time & date and outline how we can assist you.