Meet the Team: Industry Veteran Greg Pogonowski Joins the Fintuity IFA Team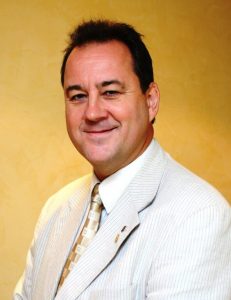 Fintuity is proud to announce the addition to our advisory team of Greg Pogonowski, a 38 year veteran with over 38 years' of experience in the financial services profession. Beginning in 1984 with Imperial Life of Canada in his England. He took over IFA Dorson Financial Services in 1990 and at the same time was made Chairman of the East Midlands Life Insurance Association in the UK.
In 2001, Greg merged his company with CRP Marketing Ltd to form a new company: Ample Financial Services, becoming joint CEO. As his Clients became increasingly international and high profile, he began to specialise in offshore planning for ex-patriates, leading to his move to Dubai in 2006. Greg has remained as a Consultant to Ample, until his co-founder and ex-business partner sold the company and it was renamed.
Greg is fully and professionally qualified as a Financial Adviser to the highest UK standards, having completed the Chartered Insurance Institute's Financial Planning Certificate and Advanced Financial Planning Certificate (DipPFS). He is a member of the prestigious 'Million Dollar Round Table' (MDRT), and acted as Assistant Director, which represents the top 5% of professional Financial Advisers from around the world. He has qualified for the 'Court of the Table' and has done so every year since 1994, culminating in continual membership of 'Top of the Table' from 2006 onwards (which represents the top 1% of Advisers). Over the years, Greg has been a regular speaker & volunteer for this organization, serving on various committees including the 'Membership Communication Committee', the 'Mentoring Committee' and the 'Constitution & Bylaws Committee' which formulates ethical standards for Advisers worldwide.
Greg specialises in providing advice on Life Insurance, Critical Illness Benefit, Investments, Savings plans, Medical Insurance, Mortgages, Pensions and Inheritance Tax planning; to UK Clients and those who are ex-pats as well as SME business owners. From 2006 until 2019 Greg was based in Dubai. He was a monthly expert guest on the morning show on the Abu Dhabi Classic FM radio station, and has written for various financial publications around the world. He is also a "Distinguished Toastmaster" (DTM) – the highest qualification award given by Toastmasters International: the international organization for public speakers (and leaders). Greg has also provided volunteer services with the international charity INJAZ, helping young people learn financial literacy, and acted as a volunteer for Citizens Advice in England.
Greg has the following qualifications – DipPFS, MAQ, CertCII(MP), EFPA, MDRT, DTM
We wish Greg every success in his role!
Introducing Fintuity – The Only Digital IFA in the UK!
Fintuity is like a traditional IFA, only we are an online adviser which means we can offer a more cost effective, time-sensitive and flexible service! We offer the full range of IFA services via our digital platform, at below industry rates and at your convenience. Please do not hesitate to get in touch to see how we can assist you.
For all enquiries please visit www.fintuity.com or contact Fintuity's Communications Manager, Nic Cobb at nic.cobb@fintuity.com.
Book a Complimentary Personal Financial Consultation With Fintuity: If you require any financial advice or support with regards your pensions, mortgages, protections, savings or investments then please use our Virtual Adviser to receive a fully bespoke financial health report in 5 minutes – Click here to get your complimentary financial report!
Please Note: All information, references and dates included in this article were accurate at the time of publishing.
We are here to help you
Your first consultation is completely free-of-charge. All you need to do is select a convenient time & date and outline how we can assist you.